Taiwan Federated Learning Medical Alliance Launch Press Conference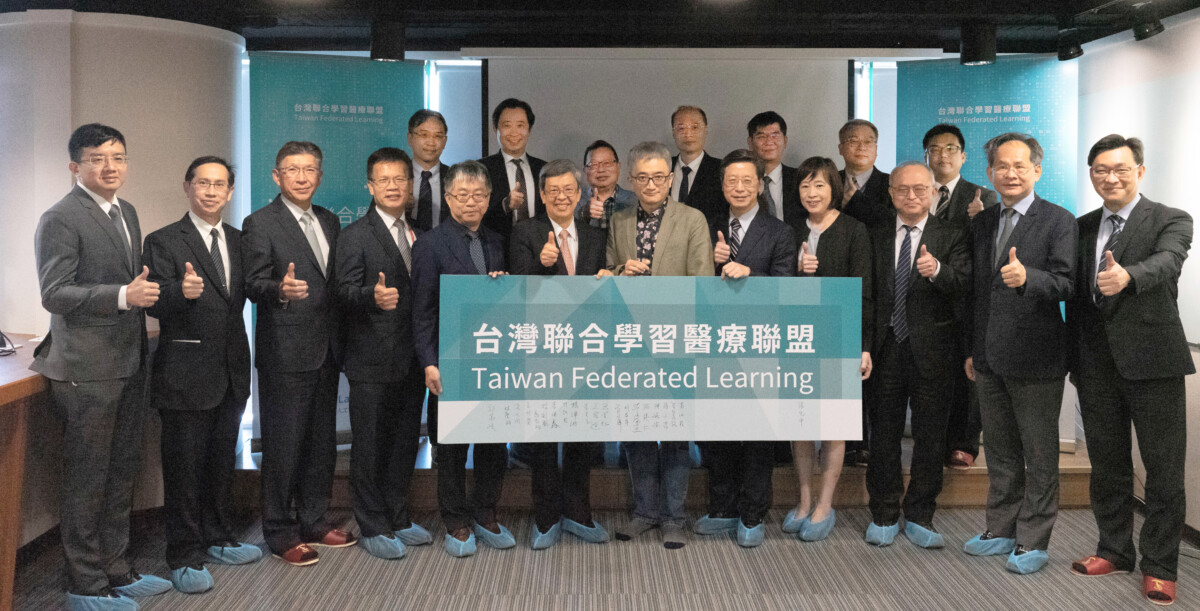 "

Taiwan Federated Learning Medical Alliance'' launched
 November 4, 2020, Taipei, Taiwan –  " Taiwan Federated Learning Medical Alliance" was held today at Taiwan AI Labs by former Vice President Chen Jianren, Deputy Chairman of the National Development Commission Gao Xiangui, Deputy Minister of Science and Technology Lin Mincong, and Convener of the Expert Advisory Group of the Central Epidemic Command Center Zhang Shangchun, Director Secretary of the Food and Drug Administration Li Mingxin, Former President of National Taiwan University Yang Panchi, Dean of National Taiwan University Hospital Wu Mingxian, Dean of Taipei Medical Affiliated Hospital Chen Ruijie, Deputy Dean of Taipei Veterans General Hospital Department, Wang Zhihong, Dean of Military General Hospital Wang Zhihong, Deputy Dean of Tzu Chi Hospital, Zheng Jingfeng, Xu Kaicheng, director of the affiliated hospital of China Medical University, and other medical center representatives and project hosts, and Du Yijin, founder of Taiwan AI Labs, jointly announced the launch.
The Taiwan Joint Learning Medical Alliance adopted Harmonia, Taiwan's first joint learning open source framework released by Taiwan AI Labs, and deployed ahead of schedule during the pneumonia period. It is now inviting the participation of national medical centers, regional hospitals, and regional hospitals to enable hospitals to comply with laws and regulations. Under the premise of protecting privacy, through the decentralized joint learning algorithm, AI can enter various medical centers to learn the professions of top physicians, and provide them for use in various medical institutions; more hopefully, through the joint learning verification platform of empirical data of national health insurance, And TFDA uses the software medical material verification mechanism of joint learning and verification results to accelerate the development of smart medicine in China, and establish the most suitable medical AI for Chinese people to benefit the people.
Through the joint learning mechanism, the Taiwan Joint Learning Medical Alliance currently has a variety of medical AI, all of which are independently developed by the Taiwanese physician team and the Taiwan AI team. For example, the "Deepmets®-Plus, an AI-assisted diagnosis system for brain metastases" initiated by Director Guo Wanyou, Director of Taipei Honors, "Wuhan Pneumonia Chest X-ray Automatic Detection System" initiated by Professor Zhang Yunzhong of National Taiwan University Hospital, and Professor Wang Zongdao of National Taiwan University School of Medicine "Intelligent Selection of the Optimal Phase of Coronary Artery in Heart Computer Tomography" and so on. There are also a number of AI research and development in the pipeline, such as: National Taiwan University Hospital launched an AI multi-omics pneumonia auxiliary detection system, big data prediction of influenza mortality, Parkinson's disease risk prediction, genetic disease detection, and drug combination development, etc. ;Beijing Medical University Affiliated Medical Institute initiated chest tube intubation chest X-ray image AI-assisted interpretation, intensive care unit sepsis prediction system, etc.; Taipei Vice President initiated the application of artificial intelligence in prostate cancer and infertility; Three-Service General Hospital initiated breast cancer imaging grading detection , Brainwave to judge hearing loss and other applications.
Du Yijin, founder of Taiwan AI Labs, said: "Since the laboratory was founded, it has emphasized openness to promote cooperation and innovation, and hopes to promote the digital transformation of China's industry through an open source and shared AI innovation platform. Taking medical applications as an example, through joint learning of open source frameworks Harmonia can break through the bottleneck of centralized machine learning, replace "data sharing" with "model sharing", solve the problem of highly agile data exchange, and establish an artificial intelligence platform that shares the expertise of top doctors. In EU countries, because of the strict GDPR We have already adopted joint learning methods to train AI and protect personal resources simultaneously, sharing the results of artificial intelligence learning, and rapid application development. The United States has also adopted many medical centers for a long time, and Taiwan is not far behind in terms of technology. We must quickly Keep up." Du Yijin further called on more medical institutions and government health units to join the ranks of jointly expanding Taiwan's health care AI. In the future, it is expected that the sharing platform will be deployed in regions and rural areas to further help medical institutions with fewer resources to share. AI learning results improve the quality of medical care.
One of the AI ​​learning projects currently formed by the alliance-"Wuhan Pneumonia Chest X-ray Automatic Detection System", is the strong support of the then Vice President Chen Jianren, Vice President Chen Qimai, and the Central Epidemic Command Center Zhang Shangchun for AI epidemic prevention technology With the promotion, it is jointly developed by the Executive Yuan, the Department of Disease Control, the National Health Insurance Department, National Taiwan University Hospital and Taiwan AI Labs. It is based on the pneumonia AI warning system of Professor Zhang Yunzhong of National Taiwan University Hospital. Through joint learning with the health insurance image database, it has been able to display the location of Wuhan pneumonia and the credible value of infection in real time. Through the verification of health insurance big data, in the 109 chest X-ray cases in Taiwan from January to March 2020 during the epidemic period, this system detects early symptoms of 27 of them earlier than nucleic acid testing, and the results are helpful for epidemic surveillance and prevention of spread . With the support of the Ministry of Science and Technology's "Innovative Technology Epidemic Prevention Field Verification Project", this system will be trialed in many hospitals including Beijing Medical University. It has also launched global cloud services for use in the United States, Japan, etc. This system is currently under review by the Food and Drug Administration.
Another important project, "Deepmets®-Plus, an AI-assisted diagnosis system for brain metastases," was first launched by Taipei Veterans General Hospital with the support of the "Medical Imaging Mass Data Project" of the Ministry of Science and Technology. It uses the annotation database of the Taipei General Hospital as the first stage of initial model training, and the second stage is under the invitation of the "Health Insurance Image Storage Project" supported by the National Development Club to include more than 3,000 brains from 23 medical centers across the country. Magnetic resonance imaging, complete AI model federation training and optimization. The third stage is expected to include the retrospective learning of imaging data from medical centers such as National Taiwan University Hospital, General Hospital of the General Hospital of the Three Armed Forces, and Chang Gung Memorial Hospital, as well as clinical testing in regional hospitals, continuous enhancement of the AI ​​model, and regulatory certification. DeepMets® – Plus can accurately identify brain metastases from mainstream brand MR images, and calculate important information such as the number, maximum diameter, and volume. The system has been launched in the AI-assisted outpatient clinic of the Department of Neuroimaging and Thoracic Medicine in Taipei. The detection of lung cancer and brain metastases has been applied to more than 1,500 cases since 2019. The time for doctors to read images has been shortened from 10 minutes to only 30 seconds. The accuracy (F1-score) is as high as 96. With the optimization of the examination process, patients The diagnosis and treatment process can also be shortened from two weeks to half a day, which not only accelerates the formulation of treatment guidelines, but also reduces the anxiety of patients waiting for examination reports.
In order to promote more domestic medical centers and medical institutions to join the ranks of AI joint learning, in addition to the open joint learning open source framework Harmonia, Taiwan AI Labs is preparing related promotion plans, including: providing industry use alliance resources for clinical verification, Joint study of clinical verification results and regulatory certification, and will assist medical institutions to establish a joint learning system, hoping to jointly create the best way to make good use of Taiwan's precious medical big data to promote the smart medical industry, for precision health and precision medicine in China Do your part in development.