Taiwan AI Federated Learning Alliance launch conference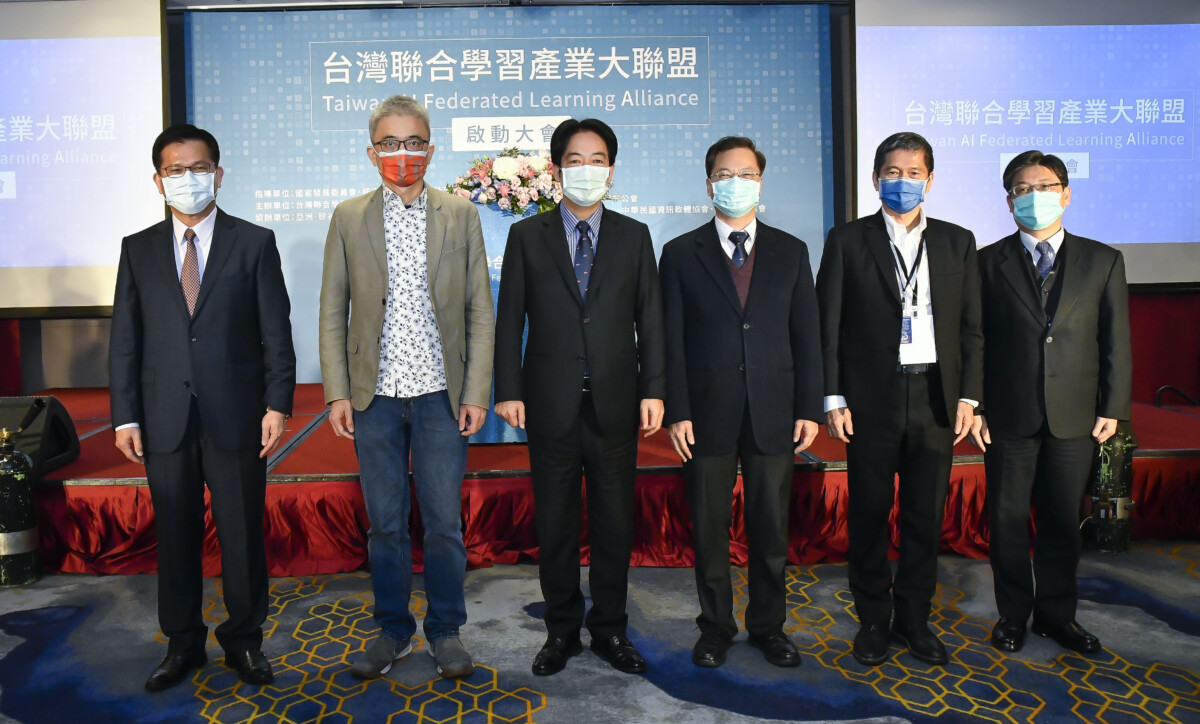 Taiwan AI Federated Learning (GPAI) The worldwide attention
"

Taiwan AI Federated Learning Alliance

"

was officially launched
January 29, 2021, Taipei, Taiwan – Taiwan AI Federated Learning Alliance, is today led by Gong Mingxin, the chairman of the National Development Committee, the sponsors of the alliance, and the co-sponsors are Wu Zhengzhong, Minister of Science and Technology, Lin Jialong, Minister of Transportation, Chen Shizhong, Minister of Health and Welfare, Wang Meihua, Minister of Economy, Li Yongde, Minister of Culture, and former president of National Taiwan University. Yang Panchi, former managing director of Google Taiwan, Jian Lifeng, chief operating officer of Industrial Technology Research Institute Yu Xiaoxian, chief executive officer of the Institute of Information Technology Zhuo Zhenghong, president of Chenggong University Su Huizhen, and chairman of the alliance, Taiwan Artificial Intelligence Laboratory founder Du Yijin announced the joint launch, and invited all Industry indicator institutions and companies join the membership.
Taiwan's achievements in scientific and technological epidemic prevention and joint learning have attracted global attention. Global Partnership on Artificial Intelligence (GPAI), an international organization initiated by OECD countries, invited Taiwan's Artificial Intelligence Laboratory to address Responsible AI, Pandemic Response, Data governance and other issues at the annual meeting, and how OECD countries' data collection complies with privacy and human rights Etc. Participate in cross-border dialogue and discussion. Representatives from Taiwan advocated "Taiwan Joint Learning" in GPAI to protect human rights and privacy while accelerating the development of artificial intelligence industry applications, becoming the focus of GPAI's future projects. Today Taiwan established the "Taiwan Joint Learning Industry Alliance" to drive innovations in healthcare, transportation, manufacturing, urban and rural areas, cultural and creative, and finance through industry-linked joint learning methods, establish cross-domain integrated applications, talent cultivation, and international cooperation, and work together to produce All sectors of government, academia, and research sectors jointly invest in research and development of joint learning technologies, provide high-quality fields and development environments, establish international-level trustworthy data governance and services, establish operating mechanisms and standards, and shape industrial policy recommendations, and jointly promote the development of core strategic industries with the government .
Gong Mingxin, the founder of Taiwan's Joint Learning Industry Alliance and Chairman of the National Development Commission, said: "Taiwan's economy is going to move towards a new economic development model 2.0. The most important layout of the government's economic development strategy is digital transformation and innovation-driven growth. +2In Industry Innovation 2.0, we actively introduce AI, 5G and other key digital economy technologies, making Taiwan a key force in the global economy. To develop AI, data is very important. Democratic countries attach great importance to privacy and human rights for data governance, and "joint learning" , Is to solve this problem. The National Development Council and the Taiwan Artificial Intelligence Laboratory first called on production, government, education, research and medical institutions to jointly establish the "Taiwan Joint Learning Industry Alliance" to lead healthcare, smart urban and rural, finance, manufacturing, cultural, creative and commerce through various industries. Join the grand event and work together to train more accurate global artificial intelligence models, accelerate the development of Taiwan's AI verification technology and applications, and create AI Taiwan. "
President of the Taiwan Major League Joint Learning industry, Taiwan's Artificial Intelligence Laboratory founder Du Yijin said Taiwan to protect the privacy of human rights trusted artificial intelligence development has attracted attention in OECD countries to invite Taiwan to participate in Artificial Intelligence Laboratory GPAI, get enthusiastic response. The Taiwan Joint Learning Industry Alliance upholds the spirit of AI sharing and sharing to conduct joint training, joint verification, and joint deployment, emphasizing cross-center and verifiable, and further achieve comprehensive AI application and field certification; the service industry members will jointly establish and share , Traceable, interpretable, verifiable, and trustworthy AI module.
The "Taiwan Joint Learning Industry Alliance" is an industrial opportunity for Taiwan's cross-industry to demonstrate its soft power internationally. The industry jointly defines problems, establishes data, conducts AI model training, and then to the productization and commercialization of AI to establish an internationally trusted AI. solution. Let the industry jointly invest more talents, technology, funds, regulations, etc., to build a high-quality joint learning service and development environment in Taiwan.