Core Strategic Industry Federated Learning Forum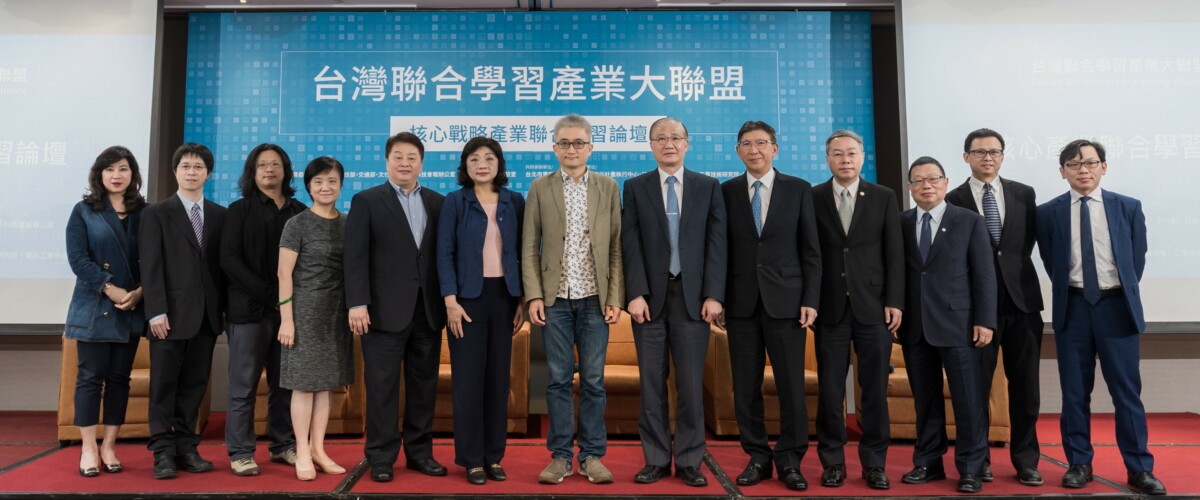 Taiwan AI federated learning talk about the results of the future
March 30, 2021, in Taipei, Taiwan – In order to enable Taiwan to play a key role in the global AI industry, TAIFA today hosted the first "Joint Learning Forum on Core Strategic Industries" at the Taiwan University Hospital International Conference Center, following repeated reports of more accurate diagnostic outcomes through joint learning. And invited 29 industry officials to share research results and future planning, hoping to assist the top experts in various fields to join the joint learning, pool domain knowledge, create the most suitable for the use of AI models in various fields, and jointly promote the research and development of artificial intelligence in Taiwan to the international stage.
" Today is a memorable day for Taiwan because we think about how Taiwan's artificial intelligence industry is developing from a national perspective, " President Ethan Tu said in his speech. In the digital economy era, digital data is oil, how to comply with gold, under the premise of protecting human rights and privacy, access to data for artificial intelligence training, is the issue of advanced countries. Federated learning uses a decentralized model where data is left in the original individual or organization, allowing AI modules to be trained in aithimide in each organization. This approach is also in line with the spirit of the GDPR, not only to obtain the consent of users, so that individuals and organizations of the right to information, remain in the individual and organization, so that everyone has more control over their own information. In the role of AI Labs, we focus on the basic capabilities of AI, and we need to work with experts from various industries and regulatory and effective enforcement units to promote joint learning in Taiwan, so that Taiwan's artificial intelligence shines and glows around the world.
"Developing big data so that people can develop smart health care is a good model," Former President of National Taiwan University, Academician Yuchi Yang said, leading the focus on "federated learning is the key to the development of core strategic industries." As all institutions and health insurance bureaus have compliance issues to comply with the data, I think the federated learning model can help solve a funding problem by using a decentralized approach. We have been talking about the concept of joint learning and technology for some time, the most important thing at this stage is to start and go, quickly select a few models to develop first, tell others that we can use the simplest way, can be used in various fields.
Huang Xinxuan, deputy director of the Transport Research Institute of the Ministry of Transport, believes that the subject of transportation has great potential to be integrated into AI because of its structured, repetitive and data-intensive characteristics. 5G plus AIoT, the Ministry of Transport actively open the AI nerve center, through AI technology, we hope to anticipate the potential risks, prevention before they appear. Professor Liling Wang, former chairman of the Governing Council, said: "Because the financial industry has very strict regulations on personal asset management, and the data of each financial company is part of the range of data, the financial industry has a lot of big data and AI training. Big difficulties, but the joint learning model has brought answers. I believe that inclusive finance can be more realized. Personally, I also look forward to the combination of AI medical care, AI transportation and AI finance. For example, in insurance, transportation safety, and insurance Early warning."
In the second discussion, the Chief Executive Officer of the Information Policy Council, Zhenghong Zhuo, presided over the topic of "Constructing high-quality joint learning services and development environment". He believed that trust is very important in joint learning when all new technologies are introduced. The root cause is the issue of trust. In addition to technology, self-management, internal auditing, internal control, and external auditing are important in establishing a trustworthy organization and institution. The important norms for Taiwan's next industry must be right from the beginning, and the mechanism must be established. Liao Zicen, chairman of Taiwan Digital Optical Communications, also shared that at present, Taichung has successfully put self-driving cars on the road. It is no longer an experimental sandbox, but has actually been on the road. Starting from the 2018 Huabo in Taichung, AI has been used for self-driving cars in transportation.
In the afternoon, when more in-depth discussions were held on medical treatment, urban and rural transportation and finance, the "medical field" attracted doctors and researchers from 9 hospitals. Lukas Nystr ö m, founder of cerefovea in Sweden, came in. He reminded us that we still need private federated learning for the model, hoping to establish cross agency and cross country cooperation through joint learning.
"Urban and rural areas and traffic fields" Lin Qinrong, vice mayor of Kaohsiung City, said that data is the driving force for the development of smart city. In the future, he will make good use of the security and privacy of 5g and aiot empirical open data to apply to the development of smart city in Kaohsiung. Yu Wanru, director of Taoyuan Information Bureau, shared the governance results of development data of smart city in Taoyuan. Because Taoyuan has a complete industrial supply chain and has many urban data, As well as the municipal governance platform based on development, the use of company data and privacy have become the focus of future development. Lin Yaping, executive director of smart city, also shared the joint learning experience of Taiwan Artificial Intelligence Laboratory, emphasizing the importance and necessity of data governance and privacy in the field of transportation (such as v2x).
Li Gang, member of the National Transportation Safety Committee, shared domestic and foreign cases of self driving transportation safety and the importance of joint learning in data privacy and governance to transportation safety. Xu Hongfeng, chairman of Fengrong passenger transport, shared the company's self driving development experience to explain the importance of smart intersection and self driving system to the future development of the city.
In the group forum of "financial field", Professor Xie Minghua of digital Financial Innovation Laboratory of Zhengda pointed out that the financial industry is facing new customers and great changes have taken place in the financial services provided. The supervision institutions are also facing more and more complex supervision objects and scope, and develop one and two-sided supervision technology (suptech) and legal compliance Technology (regtech) Now will be a good time. Prosecutor Li Bingxuan of Taiwan's Xinbei district attorney's office also said that financial institutions have reported more than 10000 suspicious transactions in half a year, but each financial institution does not exchange information and there is no feedback mechanism. If there is a "common good" Liu Bofu, deputy general manager of the digital Finance Department of Yongfeng securities, finally concluded that when the financial control systems need to integrate their independent and heterogeneous materials, how to find appropriate customers and provide accurate services needs the joint efforts of industry, University and research With the participation of the, we will jointly create a service model and provide intelligent marketing, intelligent audit and other services at the request of the FSC.
Taiwan AI Federated Learning Alliance; TAIFA The Core Strategic Industry Joint Learning Forum was held on March 30, 2021. The purpose of the alliance is to promote joint learning to accelerate the development of artificial intelligence applications, and drive innovation, cross-domain applications, and talent cultivation in medical, urban and rural transportation, finance, manufacturing, cultural business and other industries. And international linkages, hope to join hands with our domestic government, academia, and research to jointly invest in the research and development of joint learning technology, provide high-quality field services and development environment, and jointly establish a high-trust data governance, operation mechanism and standard, and propose policy suggestions to assist the government in promoting The development of core strategic industries.
This forum invited representatives from industry, government, academia, and research to discuss "joint learning is the key to the development of core strategic industries" and "joint learning to accelerate AI development-building a high-quality joint learning service and development environment", and brainstorming through decentralization A data learning framework that takes into account data governance, privacy protection, and responsible AI, implements data democratization, accelerates the cross-center, cross-field, and cross-class innovative application and industrialization of artificial intelligence, and establishes shareable, traceable, interpretable, and verifiable , Demonstration of trustworthy artificial intelligence.
At the same time, this forum shares the research results and future plans of joint learning, and hopes to assist the top experts in various fields to call on peers in the field to join the joint learning, gather domain knowledge, and create the top AI models in various fields that are most suitable for Chinese people. Jointly promote the research and development achievements of Taiwan's artificial intelligence in various fields to the international stage.
| | | |
| --- | --- | --- |
| Time | Agenda | Speaker |
| 9:30~10:00 | Speech/Introduction of "Taiwan AI Federated Learning Alliance" | |
| 10:00~11:00 | One of the conversations of federated learning experts: Federated learning is the key to the development of core strategic industries | |
| 11:10~12:10 | Two of the federated learning experts talk about: Federated learning accelerates AI development – constructs high-quality federated learning services and development environment | |
| 12:10~12:20 | The operating mechanism of the Taiwan AI Federated Learning Alliance | Alliance preparatory office |
Time
Agenda
Speaker
13:30~14:00
Key research topics of medical federated learning
14:00~14:50
Introduction to the Taiwan AI Labs federated learning platform:
Federated learning and precision health
Federated learning platform architecture
Launch a joint learning research program
Federated learning platform research results display
Federated learning platform AI development tools
Taiwan AI Labs federated learning platform team
15:00~16:30
Share federated learning findings:
Topic 1. federal learning vs. focus on learning How Does Medical AI Play?
Topic 2. The opportunities of federated learning between Taiwan and Sweden
Topic 3. ICU Intensive Care Unit federated study topic
Topic 4. It can explain the clinical application of artificial intelligence in chest imaging
Topic 5. Taiwan Cardiovascular Artificial Intelligence Research Group (TW-CVAI) Federal Learning Experience Sharing
Topic 6. Heart ultrasound federated learning sharing
Urban and rural transportation sub-agenda
Time
Agenda
Speaker
13:30~13:55
Key research topics for federated medical learning
13:55~14:25
Federated learning expert forum III:
Smart cities that combine privacy, data security and governance
14:25~14:50
Promote the establishment of safe, stable and reliable self-driving transport system technology from the perspective of risk management
15:00~15:25
Self-driving technology landing mass transportation industry empirical evidence
15:25~15:50
Light sea wisdom field car network standard planning and international development trends
15:50~16:15
The ecological system of the intelligent driving transportation technology industry, which constructs the human-based spirit
16:15~16:40
Observation of current traffic conditions and AIOT solutions
Financial technology sub-agenda
| | | |
| --- | --- | --- |
| Time | Agenda | Speaker |
| 13:30~14:00 | Application of Financial Supervision in Digital Fintech | |
| 14:00~14:30 | Application of federated learning in health insurance | |
| 14:30~15:00 | federated learning | |
| 15:30~16:00 | Securities research and emerging financial technology | |
| 16:00~16:30 | The future of federated learning and online banking | |
iThome: AI Labs launched Taiwan's first federated learning platform service, proposing a four-phase FL process to accelerate enterprise imports
旅奇週刊: Seeing Taiwan's soft power, Taiwan AI Federated Learning Alliance held a federated learning forum on core strategic industries
中央研究院法律所資訊法中心: :Director Qiu Wencong talks with record