Global Federated Learning Industry Cluster's Debut ''Kaohsiung Federated Learning Smart Healthcare Alliance'' Officially Enters the Asia Bay Area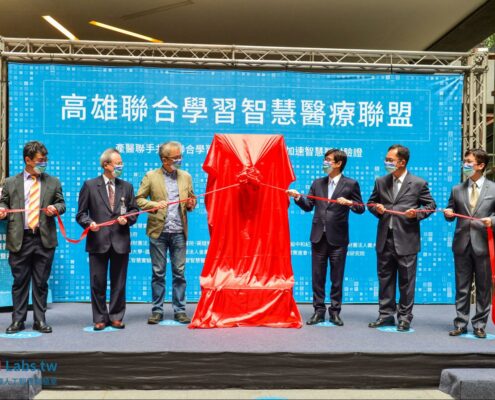 April 26, 2022, Kaohsiung, Taiwan – The "Kaohsiung Federated Learning Smart Healthcare Alliance," jointly established by the Kaohsiung City Government, Taiwan AI Labs, Kaohsiung Medical University Hospital, Kaohsiung Chang Gung Memorial Hospital, Kaohsiung Veterans General Hospital, and E-DA Hospital, four top hospitals in Kaohsiung, made its official debut at the Kaohsiung Software Park today (26). The alliance announced its official presence at the Kaohsiung Asia Bay 5G AIoT Innovation Park and unveiled the new locations for the "Kaohsiung Federated Learning Smart Healthcare Center" and the "Taiwan AI Labs Kaohsiung Research and Development Headquarters."
The "Kaohsiung Federated Learning Smart Healthcare Alliance" will leverage local clinical needs in Kaohsiung to develop decentralized collaborative learning algorithms compliant with regulations. It will collaborate with top domestic medical experts to create medical AI solutions that are best suited for the Taiwanese population, focusing on areas such as neurology, cardiology, healthcare, smart medical treatment, and smart care.
Simultaneously, through the smart healthcare validation field, the alliance will establish the Kaohsiung 5G AIoT smart healthcare and cross-hospital joint verification platform. The platform's outcomes will be utilized for software medical device validation mechanisms, accelerating the industrialization of software medical devices (SaMD), and driving the development of Kaohsiung's smart healthcare industry and the practical application of clinical AI.
Founder of Taiwan AI Labs, Ethan Tu, expressed, "I am honored to collaborate with the Kaohsiung City Government in grounding the application of collaborative learning smart healthcare. The 'Kaohsiung United Learning Smart Healthcare Center,' as the core engine supporting the alliance's operation, will initiate from southern Taiwan, accelerate cross-hospital collaboration in smart healthcare throughout Taiwan through the new collaborative learning data governance model and clinical trial mechanism. The collaboration between the medical system and the AI industry will work together to create the Kaohsiung 5G AIoT Smart Hospital and Smart Health City."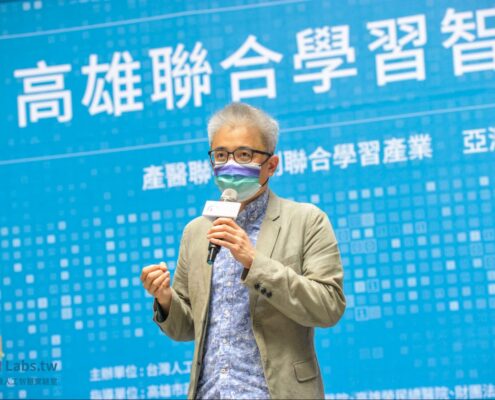 ↑↑President of the Taiwan AI Federated Learning Alliance and Founder of the Taiwan AI Labs, Ethan Tu
"This is not just a digital transformation of healthcare, but a transformation toward 'intelligence,'" affirmed Kaohsiung Mayor Chen Chi-Mai, emphasizing the importance of the alliance. "Kaohsiung possesses top-tier medical centers and rich healthcare data nationwide. Through collaboration with Taiwan AI Labs and the medical system, and by utilizing decentralized collaborative learning technology, we can train intelligent healthcare models with shareable outcomes, attract more top medical centers to join, and make Kaohsiung the preferred choice for smart healthcare collaboration not only in Taiwan and Asia, but globally. This will be a turning point for Taiwan's development in smart healthcare and my aspiration as a doctor."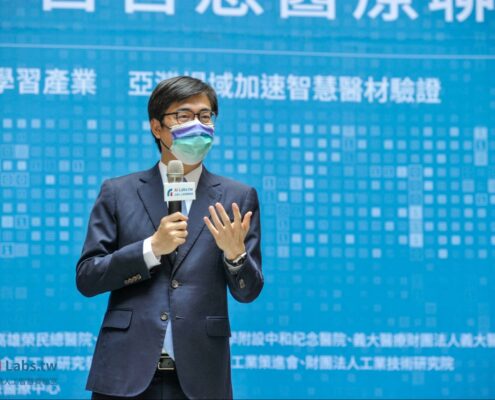 ↑Kaohsiung Mayor Chen Chi-Mai
The "Kaohsiung Federated Learning Smart Healthcare Alliance" is the first tangible case of an industry cluster landing since the launch of the "Taiwan United Learning Industry Alliance" in early 2021, initiated by Vice President Lai Ching-Te, Gong Ming-Hsin, Chairman of the National Development Council, and Ethan Tu, founder of Taiwan AI Labs, among other leaders from the government, industry, academia, research, and medical sectors.
Taiwan AI Labs is taking concrete actions to support alliance research and industry implementation. Starting from the "Taiwan AI Labs Kaohsiung Research and Development Headquarters," it plans to expand its research team to a hundred people and continue investing. It will tightly collaborate with top research teams from universities such as National Sun Yat-sen University and National Cheng Kung University, focusing on dynamic sharing algorithms, collaborative learning information security, smart healthcare networks, advanced medical equipment research, as well as the research strengths of local legal entities such as Metal Industries Research & Development Centre (MIRDC), Industrial Technology Research Institute (ITRI), and Institute for Information Industry (III) in data economy and biomedical medical materials. These interdisciplinary efforts will collectively contribute to Kaohsiung's federated learning industry. The "Kaohsiung Federated Learning Smart Healthcare Alliance" also enthusiastically invites various levels of local hospitals to join in building validation fields, along with the AI biomedical industry, with the aim of leading the development of smart healthcare in southern Taiwan.